On-Line Banking With Mobicint
WRCU On-Line Banking is always open... 24-7.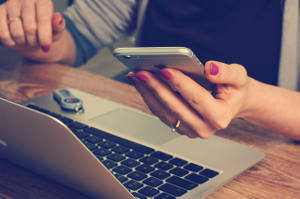 Using online banking with Mobicint from WRCU you can make account inquiries, transfer funds between your WRCU accounts, including loan payments by transfer from a WRCU account, view and print cashed checks or monthly statements, and more, all from any computer connected to the Internet. Access our bank on-line service at any time, and conduct transactions when it's most convenient for you. You can even download account information to popular financial software such as Quicken or Microsoft Money.
Highly Secure
WRCU online banking employs multiple levels of encryption and security to your online transactions. In addition to 24/7 monitoring, our systems are audited and tested on a regular schedule by a certified outside organization to ensure that your transaction data is secure at all times. You can also set up e-alerts to text or email you when there is activity on your account.
Please be advised that supported browsers for Mobicint include:
• Firefox
• Google Chrome
• Internet Explorer 11+ or Edge
• Opera
• Safari 9+
Please check your browser version if you are having trouble. Click this link to check if you are unsure of the version.
How to get started
Haven't used on-line banking yet? On-line banking was probably set up for you when you became a member. Here is how to get started:
On any page, click on the red "Online Banking" tab. On a phone or mobile device, this tab is located under the three-line "hamburger" ≡ menu.
Key in your account number, where it asks for username (this is the same as your member number, found in the upper right-hand portion of your statement).
Input the social security number (without dashes) associated with this account as your initial password. You will then be prompted to change the password.
If you can not log in with this information please contact us at the credit union.
On the "Security Enrollment" screen, click on "Yes, Enhance my security"
a) Select one of the images;
b) Utilizing the dropdown arrow, answer each of the three Challenge Questions. (You have many to choose from, but you only need three.)
Click on "Submit and Login Now Using New Security Features".
You'll be redirected to the Login screen to enter your Account Number and Password.
The next screen will ask you to select your previously selected image and answer one of your challenge questions.
You will also be given the option to "Please register my computer for future use". By registering your personal computer, you won't have to answer the security questions every time. You may register up to twenty computers. Don't register shared or public computers! Click on Continue.
This is a good time to set up e-statements. With e-statements there is no service fee on your share draft account. Here's how to set up e-statements.
If you will be using a phone or tablet for online banking, you will want to try our Mobile Banking App instead.