WRCU Moves Debit Cards to Transfund
The time has come!
In May we converted our Visa Credit Card product to our new processor, Transfund, and notified you that our debit cards would follow in the impending months. Well, the time has come! Letters went out at the beginning of the month to update you of the upcoming change to your WRCU Debit Card, but we wanted to follow up one more time to let you know that these new cards have now been mailed to you and you will be receiving these in the coming days. These cards will not be able to be used until August 23rd, when the previous cards will become inactive - do not destroy your current WRCU Mastercard debit card until this date. Instructions for activating these cards will come with the card - but you will no longer need to go to an ATM to activate! A phone number will be provided for easy activation and you will also be able to set your own pin at that time - no more separate pin mailers!!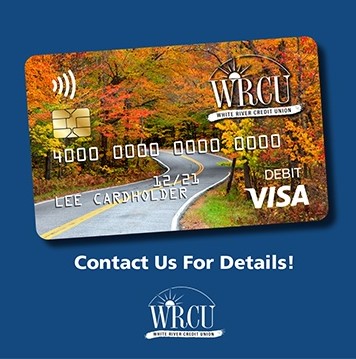 Don't have a WRCU debit card? Sign up for one now and receive a card after we convert on the 23rd! Some great new features with this card include:

+ Per-transaction PIN fees will be going away!! No more worrying about choosing between credit or debit transactions - use your card how you would like.
+ You can now add our cards to your mobile wallet! Conveniently add your card to your ApplePay, GooglePay or Samsung Pay and use wherever mobile payments are accepted.
+ Have more control over your card with a new mobile app - SecurLOCK Equip. You will be able to turn your card on and off - whenever you want. You have control to shut your card down when you aren't using it to prevent fraud. Or, if you think you have lost your card, you can protect your account until the card is found or you can contact the credit union. You will also have additional fraud control protections by being able to turn off certain purchase types, limit the dollar amounts that can be spent, and set specific locations your card can be used. This can all be controlled on the fly, send you alerts at any time, and also gives you the power to review your transaction history to completely put you in control of your account. Check out the SecurLOCK Equip app in your app store today and download to start using as soon as your card arrives!

Note: You must have a WRCU checking account to get a debit card.
A few things about the new card:
Activating your new card. Begin using your new card on August 23, 2021. Please destroy your old card, as it will be deactivated. You will be required to activate your new card before you can use it for purchases. Instructions for activating your new card will be included with the card itself.
IMPORTANT: If you have used your existing White River Debit Card to pay for services that are directly billed to your card, such as Internet services, gym memberships, insurance, etc., be sure to contact those vendors with your new card number and expiration date so your services are not interrupted.
If you have questions about your new card, please call White River CU at 800.891.3332. We appreciate your membership!