View Statements and Checks-Export Data
Mobicint Online Banking Features
Not using WRCU online banking yet? Here's how to set up online banking.
View and Print Statements
You will be able to view and print your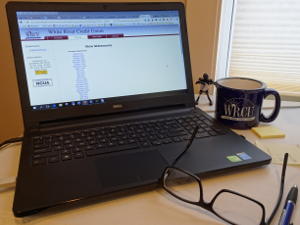 statements from Mobicint online banking if you need them. You must have Adobe Reader, Microsoft Edge, or another PDF reader on your computer to see the statements, most computers have this installed.
Log in to Mobicint.
Click the three-line menu ≡, go to the "Accounts" area, then "Statements and Documents".
Choose the statement you want to see.
View and Print Checks
You will be able to view and print your cleared and deposited checks through Mobicint online banking as well. If a check clears in the standard method (some merchants convert checks electronically and these will not be able to be viewed) you will be able to view your check copy from the checking history.
Log in to Mobicint.
Click on the account to go to the history of the checking/draft account.
Click on the listing for the check that you would like to view.
Both the front and back of the check will appear on your screen, which you can print if needed.
If "No Image Found" comes up instead then the check cleared electronically.
How to download your banking transaction information from
Mobicint

.
Log in to Mobicint online banking.
Click on the account that you want to download information for.
Click the three vertical dots on the right of the account, then click "Export" and choose the options you want in the pop-up window.
Select the transaction parameters you want for export, and the format you want to export to.

Check your money management software for the correct format to use. Generally, QFX and QIF work for Quicken, OFX for Microsoft Money and some others, and CSV for import to Excel or Calc.

Click Export or Download and save the file to your computer.
Import the saved file per your software's instructions.
Note: Mobicint does not have a suitable format for export to QuickBooks, but conversion can be done with one of several converters. WRCU can not recommend a specific converter for your application.